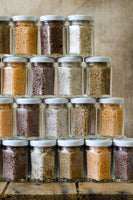 Flavoured Salts of Uttarakhand
Salt can add piquancy to any food. But is there something that can add colour and freshness to this pale edible mineral and enhance its taste? Ask people of Uttarakhand and they will tell you a myriad ways of doing so. Loaded with herbs and spices, these age-old 'pisi noons or loons or namak ' (salt ground with herbs and spices) from the mountains are not just super healthy, they are delicious enough to liven up any meal. A dash of colour, freshness and a sharp, edgy taste is what these alternatives to the table salt have been doing for decades. Pounded and ground, in a myriad of combinations of herbs and rock salts, this coarse pisi loon is indeed a magical addition to the cuisine. Mixing salt with herbs and spices means you can afford to add a little less salt to your cooking overall, relying instead on the natural flavours these combinations provide. It's a great trick to cut your salt intake when seasoning your food. Additionally, Pisi loon is traditionally made of Himalayan rock salt, which is high in micronutrients and is organic with no additives, as opposed to a common table salt which is processed and packaged.
Flavoured salts add an extra dimension to your cooking and their colour and aroma sprinkled over finished dishes works equally well as a delicious garnish. A clever way to add quick flavour without needing to rely on a store cupboard of different spices. Flavour infused salt is a tasty and elegant addition to food when sprinkled on salads, soups, rubbed into meat prior to grilling and finish off roasted vegetables. Sprinkle it over pizza, your next fried or boiled egg or breakfast toast! Use it in your dal tadka, use it to liven up raitas, chutneys and lassi or toss it with French fries or marinate paneer or chicken in it….this seasoning allows endless interpretations. Also, the coarse texture of rock salt, as opposed to the finely powdered table salt only enhances the aroma of the food. 
In the quiet hills of Kumaon and Garhwal, a long line of salts infused with flavours of mustard, coriander, garlic, ginger, cumin, different types of chillies (red, green and yellow), etc form a crucial crux of their cuisine. Apart from the extra punch they give to any boring dish, these salts are also simply eaten with rotis, paratha and madua (finger millet) rotis as survival food during the winter when the mountain ranges are inaccessible. 
Prepared by local women at home, the gaining popularity of these flavoured salts in urban regions of the country has opened up a new possibility of livelihood and financial independence. 
Shop Now
This section doesn't currently include any content. Add content to this section using the sidebar.